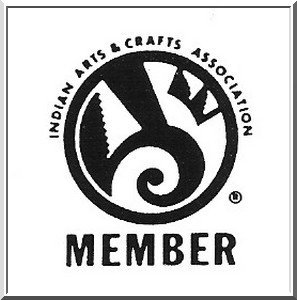 YOUR TRUSTED INTERNET SOURCE FOR AUTHENTIC NATIVE AMERICAN JEWELRY

AUTHENTICITY: All of the items we sell are AUTHENTIC Native American made. We purchase most new items directly from the artist or from a recognized and reputable dealer who purchased them directly from the artist. Most new items come with a Certificate of Authenticity. The pawn items are purchased by us, in person, from reputable Southwestern pawn shops with whom we have dealt for many years. Most of the vintage pieces are obtained from friends of our family who run a well-respected Western and Native American Art auction house in New Mexico. Our family has dealt in Native American and other antiquities for over 95 years, and we have specialized in Indian Jewelry for the last 25 years. We are in full compliance with the US Dept. of the Interior American Indian Arts & Crafts Act of 1990. And finally, we are a proud member of the Indian Arts and Crafts Association (IACA). This insures the authenticity of the jewelry we sell and protects your investment.
TURQUOISE: Native American silversmiths use both natural and stabilized turquoise in their jewelry. About 95% of all turquoise on the market today is stabilized. While natural turquoise is often the most desirable, keep in mind that simply because turquoise is stabilized, it does not mean it is of lower quality. In fact, stabilization helps to maintain the color of the turquoise and to harden the stone, making it less prone to chips and cracks. Stabilizing treatments also make the turquoise easier for artisans to work with it. On our website, if the turquoise is natural, the product description will state that the turquoise is natural.